Sydney and a Computer Meltdown
Tuesday, 8 April 2014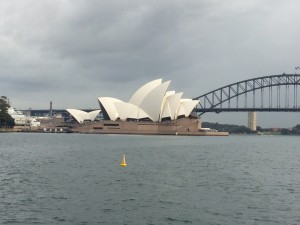 So here we are in Sydney with a singular photo to prove it.  Unfortunately something has got my computer in meltdown mode and after two trips to the Apple store I've managed to get it working again but with only three gigs of hard drive to spare so I will have to be a bit more judicious in what pics I take and post.  I decided to spend the time enjoying Sydney and living with the small hard drive space rather than running from Apple store to Apple store.
Yesterday we climbed the harbor bridge and it can truthfully be said it was the thrill of a lifetime.  Here is a short video.  The sound is not good with much wind but Wayne is talking about the cruise ship that was leaving the harbor and everyone on deck was waving to us while we were on top of the bridge.
We also took the cliff walk at the opening of the harbor to the Pacific.  Stunning.  More to come.  Tomorrow we are off to Abu Dhabi until the 14th and then home after a month of travel.