Boeing, Boeing, Gone
Friday, 6 June 2014
Little did we know that the entrance to our inn was also a pick up location for Microsoft employees.  I came out to the street to be faced with a gaggle of young, jean clad techies who were all waiting for their ride.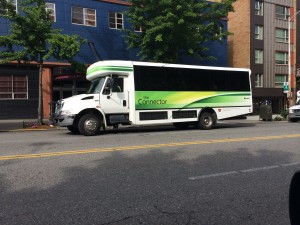 Today started with an early wake up due to time changes and then another camp breakfast before we headed out to the Boeing factory in Everett.  It is the worlds largest building by volume and is about to regain its claim as the largest building by square footage once they finish their additions for the 777x.  As many of you know,  I'm an airplane aficionado and can basically tell which plane is flying overhead by the sound of the engines.  Needless to say, I was in heaven.  They are very strict to protect their manufacturing processes so no cameras or cell phone are allowed on the tour.  You can see them online if your are interested.  The volume of the space was overwhelming when driving by.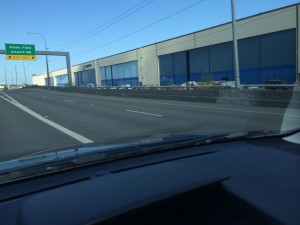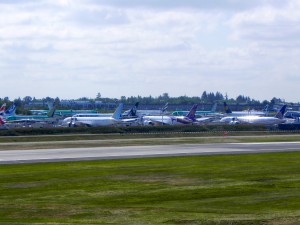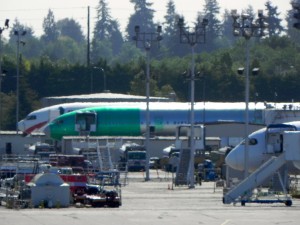 It's one of those instances when you cannot grasp the breadth of a space with a picture.
On the tour we watched 747-8, 767, 777, and 787's being constructed.  My interest in Boeing and their processes is rooted in my experience in healthcare.  There are three million parts from over 500 suppliers that are combined to create a 777.  Boeing has developed a system that each part is electronically tagged, assigned to specific work processes, and verified after installation.  I think about this and look at our healthcare system that still cannot reduce the number of retained surgical items left in patients after procedures.  This happens up to 6,000 times per year.  Let's just take a knee replacement for example.  In healthcare, a surgeon can decide how he wants to do the procedure, if they want to have someone additional assist them, what instruments they will use based on the technique they learned, and what implant they choose based on many different variables.  Well, this is not standardization.  It wouldn't stand at Boeing.  And I think we can all agree that if Boeing planes harmed 6,000 people per year it would make the news.  But healthcare does the same and it goes unnoticed.  OK enough of my podium.
After the Boeing tour, we decided to try our luck at finding our way back along the shore and ended up at Edmond for a seaside lunch of clam chowder and Caeser salad.  I was pondering our previous experience.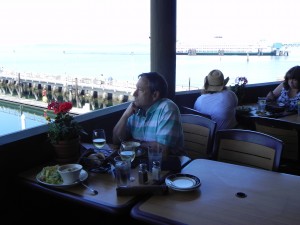 After driving back to our accommodations, I gave in to the tourist feel of the day and went a few blocks to trolley up to the Space Needle.  It was tacky, filled with screaming children, but at the same time, if anyone asks, I can say, "Yes, I went up in the space needle.  It did afford a few views that were special and it was a sunny day.  So, why not.  Plus another view of Mount Ranier.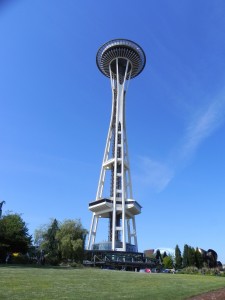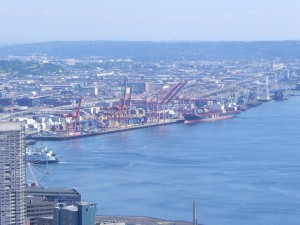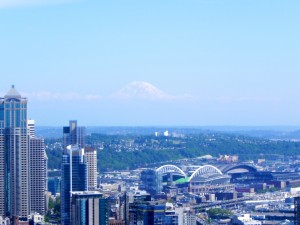 The space needle is on the Seattle Center Campus (remnants of the world fair) and is currently featuring a Chihuly exhibit of incredible glass.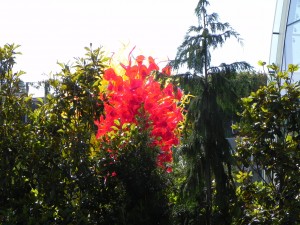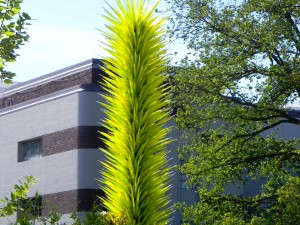 Tomorrow we are going to tour the Smith Tower, ferry to Bellingham, and then off to the Olympic National Park.