Our Gifts to Us
Sunday, 8 June 2014
Wayne and I make a habit of watching CBS Sunday Morning with Charles Osgood every week.  Each Christmas season they devote an entire show to the gifts Americans have given themselves; our National Parks.  They celebrate newly acquired parcels of land that have been named National Parks, Forests, Seashores, and Wildlife Refuges as our Gifts to Us.  Well there is no better gift than Olympic National Park.  And lets just get it straight right now, any person in congress who proposes slashing a single penny of the budget for our parks and wilderness should be hauled away in short order.  I didn't post last night because the wi-fi here is a little iffy but this afternoon it has picked up steam and seems to be cooperating.
Yesterday Wayne got up early and guess who were at our door?  That's right, Donald and Daisy waiting for the cafe to open.  I know, I know don't feed the wildlife but I did some research and found it was healthy to feed them whole grains which we did in the form of a gluten free cracker.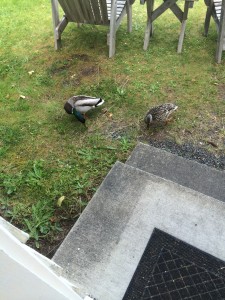 When they are literally at your doorstep what do you do?  This morning they almost came inside our open door.
The morning was clear skies and sunshine and all the Inn staff agreed that it was the perfect day to explore Hurricane Ridge.  It's amazing how different mountains are formed by different geological events.  The Olympics were formed from the Pacific Ocean up.  Literally millions of years of sediment formed rock at the bottom of the ocean that was pushed by tectonic plates into the mountains we see today.  There are glaciers and snow almost year round.  And those of us from Chicago who whined at our winter, these mountains can see snow that would add up to a six story building.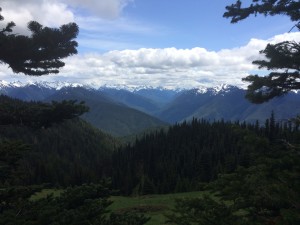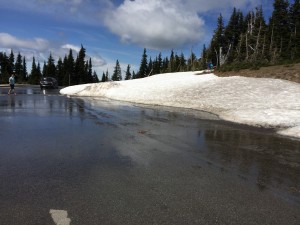 We took a picnic lunch and thanks to the clued in staff at Lake Crescent Lodge we knew the secret places to go which most folks pass without knowing.  Here's our picnic table.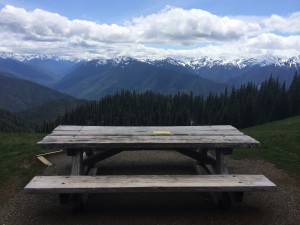 With this view, some cheese, olives and crackers, who wouldn't be happy?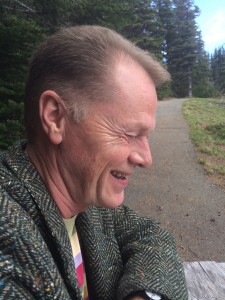 After hiking into the mountains for a bit, we headed home and yes, Donald and Daisy were right there waiting for us.
Dinner tonight was a plate of seared Sea Scallops with lemon foam and caramelized Brussels sprouts.  Nicholas, our favorite person for food, had the whole thing arranged for us and made sure our meal was. . . flawless.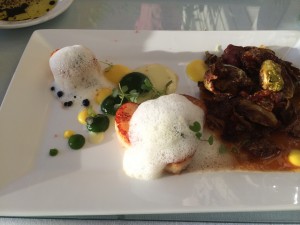 This morning we decided to take a walk around the Lodge and ended up walking three miles to Marymere Falls.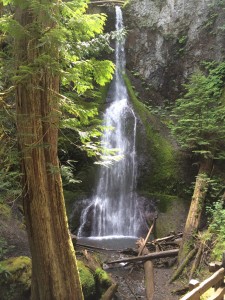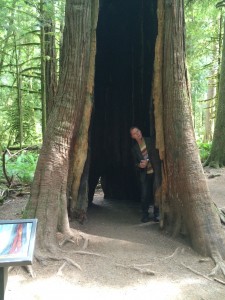 On the way we got sidetracked and ended up following signs to "NatureBridge".  Which in our innocent minds meant a bridge that nature made.  Well it turns out to be quite different.  Naturebridge is a non-profit that specializes in providing wilderness experiences for students of all ages from first grade into college.   A class of students may decide that they want to learn about nature and reserve a three to five day trip to this camp where educators will teach them about the environment, ecology, geology and give them a nature experience unrivaled.  The organization works with several National Parks.  Robert, the caretaker at this location took us all over the property which they were just opening up for the summer season.  It was clear he loved his job and loved the fact that he had a part in teaching youth about nature.  He told us that when they host a class from a rough urban environment this is the first time that many students feet touch natural land.  Some of them are even frightened by the wilderness and open space.  I was very impressed with not only their commitment to the land but also their respect for preserving history.  They took over this camp which contains the old "Rosemary" lodge where Roosevelt stood on the porch and declared this peninsula a National Park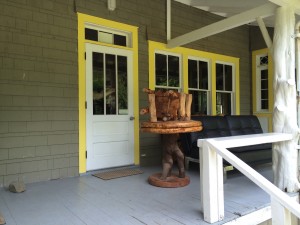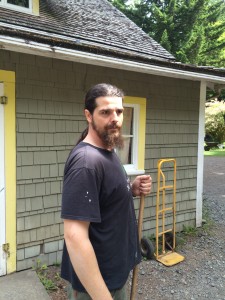 Here is the dining room housed in the original lodge.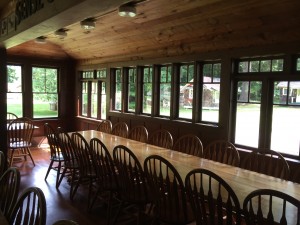 After that walk we came back and had some olives and cheese to tide us over until dinner.  Nicholas won't be here tonight but left a note that we are to have a special salmon dish and allow the chef to riff as he pleases.
What a day!  Tomorrow Sol Duc Hot Springs?